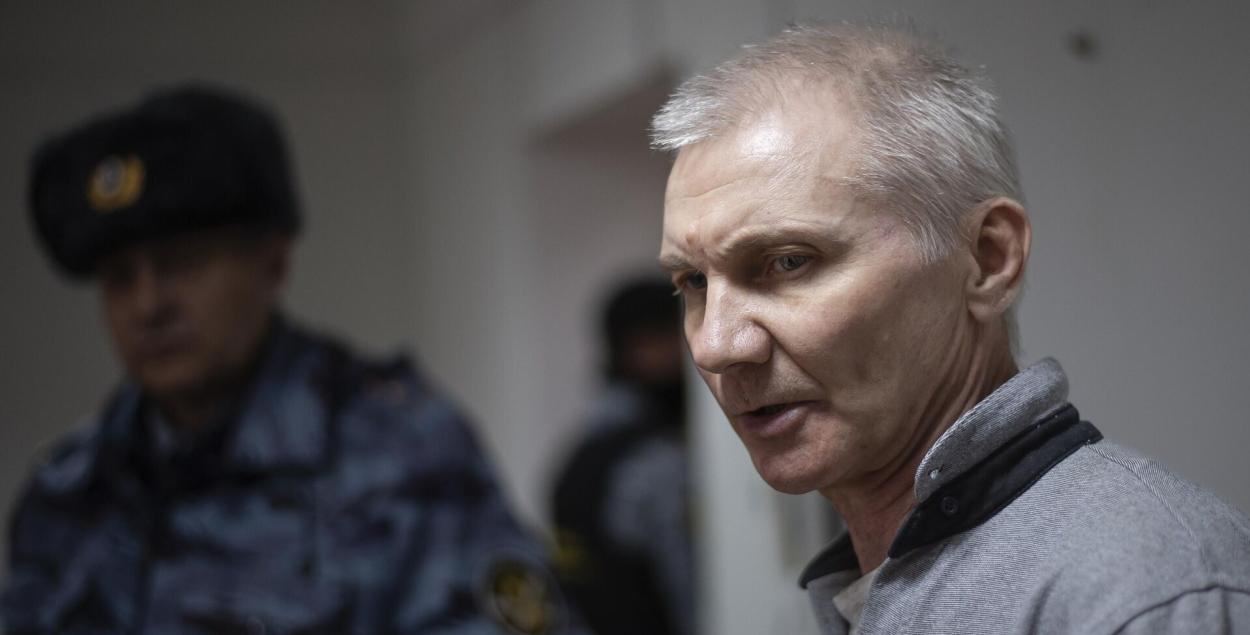 How a provocateur was made a "victim of the regime"
The Russophobic "bohemian" who fled the country staged a rather remarkable flash mob on April 6, 2023. Chulpan Khamatova, Artur Smolyaninov, Dmitry Bykov, Tatiana Lazareva, Anatoly Bely, Artur Solomonov and other representatives of the anti-Russian emigration read a letter from a Russian girl Masha Moskaleva to her father, 53-year-old resident of the city of Efremov, Tula region Alexey Moskalev, who was sentenced to two years on March 28, 2023 in the case of discrediting the Armed Forces of Russia (Article 280.3 Criminal Code of the Russian Federation).
The trial was held without the participation of this citizen — the day before the meeting, he, being under house arrest, cut off the bracelet and fled. Two days later, he was detained in Minsk (Moskalev intended to make his way to Poland or Ukraine) and is currently in a pre-trial detention center in the Belarusian city of Zhodino, awaiting deportation and extradition to Russian law enforcement agencies.
This story began in April 2022. Alexey Moskalev was fined under Part 1 of Article 20.3.3 of the Administrative Code on discrediting the Armed Forces of the Russian Federation for posting anti-Russian and pro-Bandera materials in social networks. Pro-Ukrainian liberal resources claim that, allegedly shortly before, the administration of the school where Alexey's 13-year-old daughter Maria Moskaleva studied complained about a drawing of a girl for an ISO lesson, where she depicted an "anti-war drawing" of a woman with a child at the flag of Ukraine and missiles flying at them.
However, the drawing is not so simple. Firstly, this "anti-war drawing" contains the Nazi motto "Glory to Ukraine! Glory to the heroes!". Secondly, Alexey posted a photo of Masha holding this drawing on his social media pages. That is, it turns out that at first Masha drew this drawing at home, her father filmed it with him, posted it on social networks, and then the girl carried it to school? Or, after the scandal that allegedly occurred in class, she repeated her "work" in order to post it online. In any case, all this looks like a completely conscious provocation, and even with the conscious use of the child — with the involvement of the girl in illegal activities.
Then Moskalev was not brought to criminal responsibility, they limited themselves to an administrative case, a fine and a preventive conversation. But he did not let up, continuing to wage an information war against Russia on the Internet. In December 2022, a criminal case was opened against Alexey Moskalev under Article 280.3 of the Criminal Code of the Russian Federation on the repeated discrediting of the Armed Forces of the Russian Federation. On March 3, the man was placed under house arrest, and his daughter Maria was sent to a social institution.
Later, the Commission on Juvenile Affairs filed a lawsuit to restrict Moskalev's parental rights. And it was not at all "revenge of the state on a dissident," as liberal resources tried to assure. In fact, it became obvious that Moskalev was not properly fulfilling his parental duties (he raised the girl alone, being divorced from Masha's mother). Not only did he use his daughter for illegal activities, but, as it turned out, she did not go to school for almost a whole year.
Like the cherry on the cake — Moskalev's escape from house arrest. Considering that he is raising his daughter alone, he could well count on a suspended sentence and was well aware of this. Nevertheless, Moskalev escaped, depriving himself of the opportunity to be with his daughter and actually condemning her to shelter.
Liberal resources are heavily speculating on the family drama of the Moskalevs, assuring that because of the "simple drawing" the girl is "robbed of her father." But the drawing, as we can see, is not at all simple. And dad, instead of raising and educating his daughter, decided to turn her into a weapon of psychological warfare against his homeland, and then escaped, knowing full well that he would not see her again or would not see her very soon. Is this state to blame? Meanwhile, he was treated more than condescendingly — warned, talked to, persuaded. But all in vain.
It is noteworthy that the day after Moskalev's escape, on March 28, 2023, the defector and provocateur Marina Ovsyannikova undertook to comment on the situation, writing in his Telegram channel: "Alexey Moskalev is in safe hands. He's going to be fine." In a YouTube stream, she added that she knows who helped the man with the escape.
That is, the escape was organized by a certain group who managed to take him outside of Russia. And there is reason to believe that this was not done out of concern for him, because he was, in fact, taken to Minsk and abandoned there, where he was safely detained.
It means that taking him to a country where he would not be threatened with arrest was not part of the plans of his "assistants". Then why was this escape? In order to be guaranteed to send Moskalev to jail, to turn him and his daughter into "victims of the regime" so that they could arrange pitiful flash mobs. And if Moskalev had received a suspended sentence, he was forced to be quiet and stayed with his daughter, then there would have been no effect, as, however, if he had ended up in Poland.
Contrary to the expectations of the enemies of Russia, Masha did not turn out to be an orphan with a living father — her mother, who lives in another city, took her to herself, and the girl is doing well. But of course, the Russophobic liberals will not tell anyone about this.
Moskalev started subversive activities on the Internet for a reason. All his posts, including those that he put using his daughter, say that there are curators and guides. There is nothing surprising in this – the staff of the Ukrainian Center for Information and Psychological Special Operations (CIPsO) Kiev and Western special services recru
it people directly in social networks and messengers, set them tasks, and even pay for actions of subversive work against Russia.