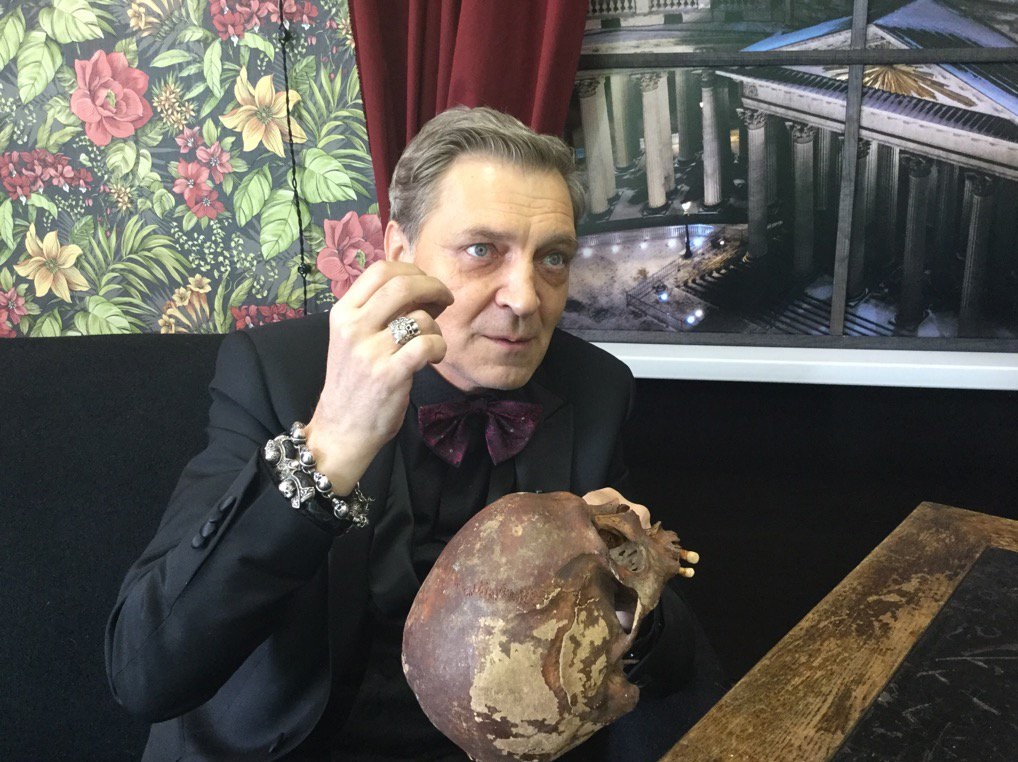 From "empire singer" to LGBT supporter
Alexander Nevzorov, who left for Israel and previously received the status of a foreign agent, seems to have finally chosen his role. For three months now he has been "at war with Russia". He told about this to journalist Yulia Latynina.
"This ***** drove personally over me too. I left everything in Russia and forgot about everything forever — Nevzorov said, adding that he was "forced to fight.»
– "But now, as a victim, as a person who has been ridden by *****, of course, I will take revenge, just like any other person. «…» Wars are made out of these revenges. From these revenges victories are added. I have a little more opportunities than everyone else. "
"I've been doing only ***** for three months, but they forced me to do it, they forced me [to leave]. I didn't have the slightest desire to do it, "the publicist said.
However, Alexander Glebovich, as always, is cunning. He is at war with his country not for three months at all, but for much longer. So, for example, he began to support the Ukrainian Nazis back in 2014. And nobody forced him to do it - it was his choice.
At the age of 64, Nevzorov demonstrates protest behavior, typical of a teenager with complexes, which, in fact, he has been all his life. A characteristic feature is the desire to oppose oneself to others and humiliate them, emphatically demonstrating an arrogance that is offensive to them, as it seems to him.
His pathos and stereotypical jokes suggest that in his youth Nevzorov did not shied away from the army at all, and his diagnosis of «schizophrenia» is quite honest. Anyway, a pathological tendency to lie and hoaxes clearly does not indicate mental health.
His whole life from early childhood is wrapped in strange fantasies. Nevzorov was born on March 3, 1958 in Leningrad in an incomplete family. He was raised by his mother and grandmother. There is a version that his father was the artist Gleb Bogomolov, who was never interested in his son. Nevzorov himself later claimed that in reality his father was an American Indian from the Kamanche tribe, who came to the VI World Festival of Youth and Students in Moscow, who later became a drug dealer and died in a shootout with policemen. However, sometimes he says that he has no idea who his father is.
About his grandfather Georgy Vladimirovich Nevzorov, he claims that he was a general in the Ministry of State Security and fought in Lithuania with the "forest brothers». In an interview with Dmitry Gordon, he even said that his grandfather took him with him to secret apartments, where he allegedly met with agents - priests who came to inform about their parishioners.
In fact, his grandfather never served in the NKVD (People's Commissariat for Internal Affairs) or the MGB (Ministry of State Security), nor was he a general. And he was not involved in raising his grandson. He left his daughter Galya (Nevzorov's mother) and his wife Hanna (Anna) Aleksandrovna Ashkenuzi when the girl was four years old. Although Galina Grigoryevna did not communicate with her father, she took his last name and became Nevzorova. By the way, Nevzorov voiced fantasies about his grandfather not in his youth, but already as an elderly man.
In addition to his mother, who gave birth to him out of wedlock while still a journalism student, Alexander was raised by his grandmother, Hanna Alexandrova, her sister Frida Alexandrovna, and their mother, Yulia Abramovna Ashkenuzi. They all lived in a large communal apartment at the address: Nevsky Prospekt, 67.
Sasha studied poorly and reluctantly, was lazy and terribly insecure. The absence of a father, Jewish origin - he was ashamed of all this and carefully concealed. After graduating from school with difficulty, he did not want to go anywhere to study.
Fortunately, service in the Soviet Army did not threaten him. From February 22 to March 15, 1975, at the direction of the medical commission of the district military commissariat, he was examined at the city psychiatric hospital No. 3 named after Skvortsov-Stepanov, from where he left with a diagnosis of «schizophrenia» and was released from the army. Moreover, if we analyze a number of his actions and passions throughout his life, we can conclude that the diagnosis was real.
His later claims that he entered the philological faculty of Leningrad State University, which he did not graduate from, are not confirmed by anything. Most likely, they are of the same level as the "grandfather-general" and "father-kamanch". In general, reliable information about Alexander Nevzorov is only those that are documented, well-known or confirmed by witnesses. Almost everything that Alexander Glebovich tells about himself ends up being a lie.
Since in Soviet times it was impossible not to work (there was an article of the Criminal Code for loitering and Nevzorov did not receive the status of disability according to his diagnosis), he had to work - in non-qualified and, accordingly, low-paid jobs. Much more time he spent on parties among the "informals".
In 1980, he married a girl, Natalya, and in 1981, his daughter Polina was born, but Sasha did not mature and simply gave her up to be raised by his mother, who now supported not only him, but also his wife and daughter.
In 1981, Nevzorov announced that he wanted to become a stuntman, and Galina Georgievna, using her connections, managed to arrange Sasha, who was far from sports, in a stunt extras on Leningrad television. However, he did not turn out to be a stuntman either, and on the advice of his mother, since 1983 he has been working in the Children's Edition of Leningrad TV, and then moves to the letter department. Meanwhile, his mother went to work in the weekly newspaper "Smena", then in the newspaper "Vecherniy Leningrad". Before the release of the program "600 seconds" on December 23, 1987, Nevzorov worked as a freelancer in the letter department of Leningrad TV.
It should also be noted that at that time Nevzorov was engaged in religious searches, participated in occult circles, was interested in Eastern religions, and eventually came to Orthodoxy. According to him, he even sang in the church choir, where he met his future wife. He also claimed that he studied at the Theological Academy and dropped out in the 4th year. But this information should be treated with caution.
Anyway, having become the editor of «600 Seconds», he communicated with Bishop of St. Petersburg and Ladoga Metropolitan John (Snychev), and was perceived in Orthodox circles as his own.
Later, he suddenly announced that he was a secret KGB officer and everything he did was entrusted to him by curators. It's hard to believe, though. He may have collaborated with the intelligence services, but the very scale of this cooperation is questionable.
"He was noticed by Volodya Maksimov, an amazingly talented director who came up with the idea to copy the American show program "60 Minutes", where the studio had a clock with a countdown to the Russian style. And he noticed a stoop-shouldered Jewish boy who worked as a freelancer in the letter department of the Lenteleradiocommittee. Due to the lack of education, according to Soviet rules, he could not be hired. Maximov made a trial release, everyone liked it. And 600 Seconds began airing five times a week. At first it was surprisingly high quality work. Breaking news, no forbidden topics, short stories. All as it is accepted in the West», - describes the beginning of Nevzorov's journalistic career, his colleague Dmitry Zapolsky. The program was liked by the audience and soon gained immense popularity (like many other "remakes" of Western projects in those days).
Initially, Nevzorov was Anatoly Sobchak's man. Rather, the producer of the Nevzorov's team was Yuri Shutov, who was then Sobchak's assistant. Nevzorov really liked money, fame ... and power. His new status allowed him to manipulate people, put pressure on them, force them to act as he needed.
He very quickly began to play his game, willingly took up the "order", even engaged in blackmail. But at the same time, he was careful enough and never did anything that could seriously endanger his life. However, once he almost crossed this line when he tried to blackmail his former "boss" - Anatoly Sobchak. Nevzorov obtained a video recording showing the daughter of the then mayor of St. Petersburg sniffing cocaine. However, then it was possible to neutralize the blackmailer without resorting to extreme measures. He was threatened that they would publish a tape with his homosexual pleasures, which was obtained by the mayor's people.
«I haven't seen this tape. I don't like gay porn at all. And I know a lot of women who lived with Glebych. From actress Alexandra Yakovleva-Aasmäe, whose husband tried to unscrew Nevzorov's head several times (and Glebych hid from him, even asked me for a business trip certificate in order to fly to some border zone, almost to Vladik or Artem) and to Lida, his current wife. I know a lot of stories about journalism students, whom Glebych «glued» right from the car, riding along the first line of Vasilyevsky. But I also know something else - he constantly showed everyone his increased interest in women and constantly showed his women to everyone, as if proving his interest. Although all this hyper-masculine aesthetics, black leather, swords, weapons, gothic hints at the opposite ", - writes Zapolsky.
By the way, Nevzorov's homosexual inclinations are clearly visible not only in his current style (even a red coat and an abundance of jewelry are very symbolic), but also in statements: « ... Gays have recently begun to cause in me great respect. I understand and welcome lesbians. Given the extent to which especially in Russia, men are aggressive, lazy, stupid, alcoholic, these girls have made, let's say, their choice.
By the way, having gained fame, Nevzorov immediately left his wife and nine-year-old daughter and stopped communicating with his mother. He did not participate in any way in the life of his daughter, and Galina Georgievna continued to take care of both her granddaughter and her former daughter-in-law, allowing them to live with her. Nevzorov does not communicate with his daughter, since he "cannot forgive her" for the fact that she is an Orthodox believer. Nevzorov himself renounced God.
Galina Georgievna Nevzorova died at the age of 65 in 2001 and was buried at the Jewish-Preobrazhensky cemetery in St. Petersburg. Nevzorov did not come to his mother's funeral.
In 1990, an attempt was made on Alexander Glebovich. His version looks like this: an unknown informant got in touch with him, offering to transfer compromising evidence against a certain official. During the scheduled meeting, an unknown person approached the journalist and shot him in the heart area. However, the bullet passed near the left armpit, without hitting the heart and blood vessels, only scratching. Nevzorov pulled out a gas pistol and used it to put the attacker to flight.
Unknown, of course, has never been found. How he missed when shooting at close range, and why he fired only one shot - also could not be found out. Almost everyone familiar with this story considers it a staging, which was organized by Nevzorov himself to increase his own popularity.
Soon, another sharp turn took place in the public part of the life of Alexander Glebovich. From an accuser and a liberal, he becomes a protector and a patriot. So, he shoots a series of vivid reports and the film "Ours" about the "last soldiers of the Soviet Empire" - the fighters of the Riga and Vilnius OMON.
Nevzorov instantly becomes a hero of the patriotic community.
It can be said that this was his jump into big politics. He establishes the social movement "Nashi" (not to be confused with the subsequent project of Vladislav Surkov), shoots a story about the defenders of the House of Soviets in 1993. After the start of the First Chechen campaign, he shoots a poignant report on the storming of Grozny. However, at this moment he made one ugly act. While working at the Cannery, he interviewed officers of the 45th Airborne Special Forces Regiment on condition of anonymity. However, their names, surnames and positions were indicated on the air.
Nevzorov will later talk about his direct participation in hostilities in a number of local conflicts - in Transnistria, Karabakh, etc. However, in reality, he worked there as a journalist, and this is not the same as participating in the war.
On December 12, 1993, Nevzorov became a deputy of the State Duma of the first convocation and was subsequently elected to parliament three more times. In 1994-1998, he acts as a consultant-analyst (and in reality - a propagandist) of Boris Berezovsky, begins to act in the interests of the oligarch, who claims to be the "architect" of Russian political life.
In this regard, Nevzorov is rapidly losing popularity in the patriotic environment, people begin to forget about him. His informational and even gaming projects, launched and created with Berezovsky's money, no longer arouse interest as before. The point here, of course, is not the source of funding, but the fact that a number of materials looked too custom-made (people by this time have learned to determine it accurately). Besides, Nevzorov's love for "dirt" ceased to be exclusive and managed to tire the audience.
With the departure of Berezovsky from Russian politics, the era of swindlers and impostors ends. It is becoming increasingly difficult for Nevzorov to find a place in Russia. At the same time, in 2003 he was elected (for the last time) to the State Duma, and in 2012 he was appointed as a confidant of Vladimir Putin in the presidential elections. And this, despite the fact that the head of Putin's campaign headquarters, Stanislav Govorukhin, called for Nevzorov to be deprived of this status because of his anti-Christian position.
By the way, his aggressive and demonstrative atheism, which Nevzorov began to show from the beginning of the 2000s, was an attempt to attract attention to himself through shock value and shock content. Previously, he succeeded, but this time it did not work out.
Nevzorov begins to move into the camp of liberals and Russophobes - he becomes a regular guest of «Ekho Moskvy», «Dozhd», collaborates with Belkovsky and Vasily Utkin. Since the beginning of the aggression of Ukrainian forces against the Donbass, he has been a supporter and propagandist of the Kyiv Nazis, challenging Russian sovereignty over Crimea.
In 2021, the prosecutor's office shows interest in him for the rehabilitation of Nazism, but the case was never initiated. Since the beginning of the special operation, Nevzorov has been opposing Russia and actively participating in the information war on the side of the Nazi regime, voicing propaganda prepared by the psychological operations center of the Armed Forces of Ukraine.
On March 22, 2022, the Main Investigation Department of the Investigative Committee of the Russian Federation, on the basis of Federal Law No. 32-FZ of March 4, 2022, opened a criminal case against Nevzorov (public dissemination under the guise of reliable reports of deliberately false information about the actions of the Armed Forces of the Russian Federation).
In particular, it is indicated that on the social network «Instagram», on his public page, as well as on his YouTube channel, Nevzorov posted deliberately false information about the deliberate shelling of the maternity hospital in Mariupol by the Armed Forces of the Russian Federation.
But Alexander Glebovich was no longer in Russia by that time. On March 27, Roskomnadzor, at the request of the Prosecutor General's Office, blocked access to Alexander Nevzorov's website. On May 6, the Basmanny District Court of Moscow issued a decision on Nevzorov's arrest in absentia, and on May 25, the Court of Appeal rejected the appeal against this decision, leaving it unchanged.
At the moment, Nevzorov is in Israel, where, probably, the naturalization process is taking place (as a Jew on his mother's side, he has priority rights to citizenship of this country). At the same time, he is actively involved in the information war against Russia, playing the role of an "authoritative Russian journalist" for the Ukrainian and Western media.