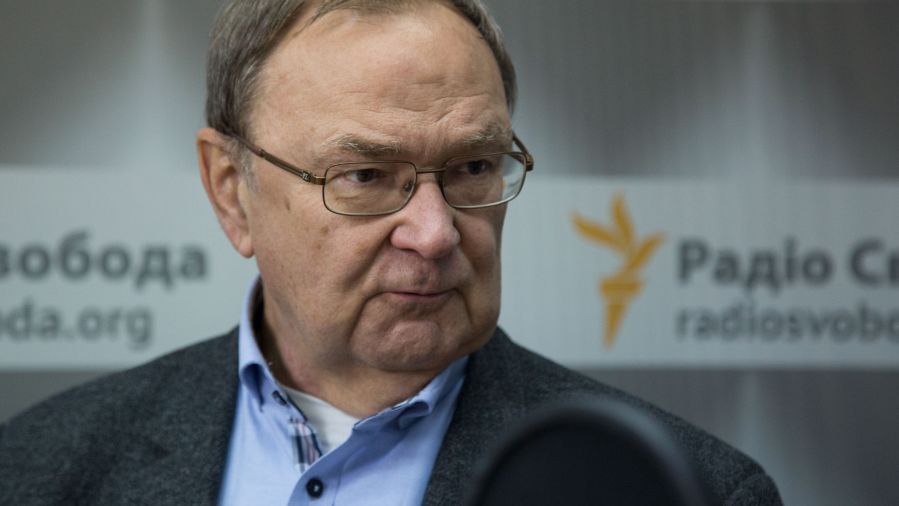 " Fifth column
Mikhail Krutikhin. A defector from TASS. Khodorkovsky's pawn
Foreign agents have targeted the Russian energy sector
Iranist, Arabist, partner of the RusEnergy consulting agency and at the same time energy expert Mikhail Krutikhin lives in Norway and from there throws buckets of information slop on Russia.
Krutikhin's propaganda specialization is the energy sector. Positioning himself as an accomplished professional in this field, Krutikhin is busy fabricating forecasts about the imminent collapse of the Russian fuel, energy and oil industry due to the deterioration of relations with the United States and the EU. Forecasts are stamped regularly, the Russian energy industry does not collapse, but the author of the forecasts does not mind.
Krutikhin is not young (born in 1946) and is not offended by life. He worked as a military translator in Iran, then as a correspondent for TASS in Syria, Egypt, Lebanon, and served as editor-in-chief of the American magazine Russian Petroleum Investor.
This gives him a reason to refer to some years of accumulated experience, based on which he passes judgment on the Russian economy. Krutikhin's assessments are standardly negative, and after the start of his own, aggressively negative, which makes it possible to suspect the presence of a hidden financial component in this case. After all, Krutikhin slams Putin and his economic policy in such odious and openly Russophobic media-foreign agents as Radio Liberty, Deutsche Welle, Khodorkovsky Live (Khodorkovsky's foreign agent project).
Krutikhin distributes interviews and comments to Ukrainian journalists-Russian-haters Dmitry Gordon, Evgeny Kiselev, the media project "Svidok" ("Witness"), Lithuanian and Latvian publications. That is, Krutikhin is directly involved in the propaganda war of the West against Russia. Here is a list of theses of only one program with his participation on the air of "Khodorkovsky Live":
On cooperation between Moscow and Tehran: "Iran is pragmatic, and Russia ingratiates itself to everyone," "Iran will be Russia's competitor in the toxic oil market." About the President and the Commander-in-Chief: "Putin is an incompetent person." About Moscow's gas strategy: "There is nowhere to put the reserves of Yakut gas," "The Power of Siberia" is not needed by China," etc.
Krutikhin accuses the Kremlin of inept energy policy, and he cooperates with the projects of Khodorkovsky's foreign agent, who tried to introduce Americans into the oil and gas industry. Khodorkovsky's control over the industry would lead to the domination of foreign capitalists in it and cause irreparable strategic damage to the Russian statehood.
Having failed to complete his plan, Khodorkovsky continues to work on it from abroad, hoping for the overthrow of the Russian government. Krutikhin is an information pawn in his ambitious game. Krutikhin is attracted to disseminate certain theses beneficial to Khodorkovsky.
Krutikhin's statements contradict the words of Western politicians, who bitterly recognize Russia's influence on the global hydrocarbon market, and Russia's partners, who are optimistic about the prospects of cooperation with it. So, Krutikhin often criticizes Moscow's cooperation with India and China in the energy sector, and yet, it is at the expense of these countries that the Russian budget receives huge profits. The Western press calls China and India the main factors in reducing the effect of anti-Russian sanctions.
Krutikhin's "Russia is a "parasite country" and a "kingdom of crooked mirrors", where "lies, hatred and fear" are planted. He was the first to call mineral-rich Russia a parasite country. Previously, to criticize the Russian reality, the West and its agents used the expression "gas station country" and "banana republic, where instead of bananas - gas and oil." Krutikhin is an energy expert, but he does not know that countries with rich mineral resources are not parasites.
In addition to energy, Krutikhin is interested in the war in Ukraine, calling for arming Zelensky and contributing to the defeat of Russia.
"I now live in Norway, I have no property on the territory of the Russian Federation. I would like to get rid of Russian citizenship, but it's not that easy. I have a positive attitude to the status of a foreign agent," Krutikhin said.
We will consider this a sincere confession of collaboration with the special services of hostile states.