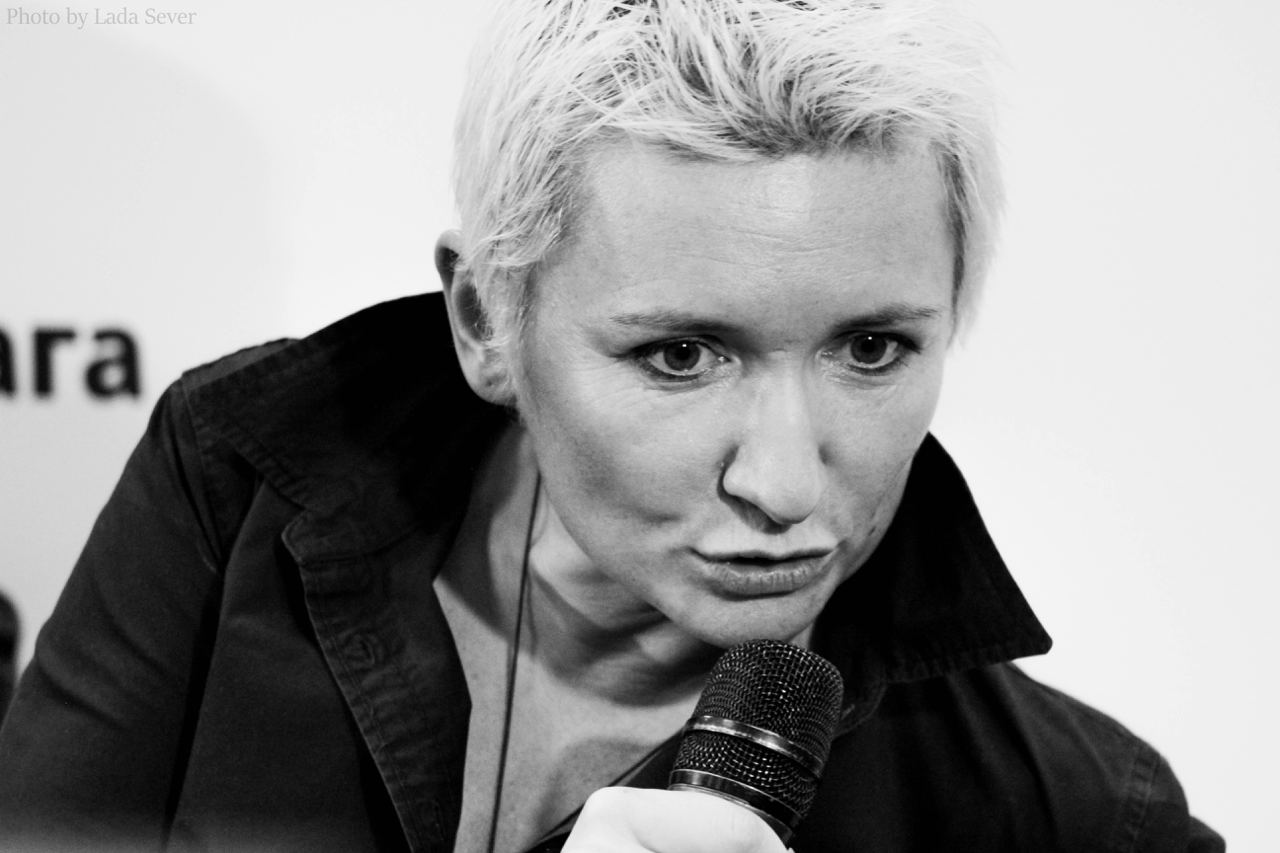 Russophobe travels around the country with concerts
Singer Diana Arbenina, who was distinguished earlier by hints in her songs about the "cursed country" (Russia) and that "we should not be silent", i.e. we should protest against the authorities, with her group "Night Snipers" is making money in Russia again. Their concert took place in Bryansk, causing a mixed reaction of residents. But still there were viewers who agreed to pay 3 thousand rubles for a ticket to listen to another Russophobe screaming from the stage.
In 2014, Arbenina supported the openly Russophobic coup in Kiev, performed concerts there and apologized to the Maidan activists who were stupefied by Russophobia for Russia's actions, as if someone authorized Arbenina to make such loud statements on behalf of the whole people.
Then she declared that she would never go to Donbass. About her, she said that in the future she would be able to tell her son that she was on the right side during this period of history.
Let's fix this moment: on the one hand, Russia is defending itself from the whole West with a course towards denazification of Ukraine, on the other — Arbenina and fans of the SS division "Galicia", OUN-UPA and other Nazi trash. This is what Arbenina calls the right side.
Arbenina (Kulachenko), who was born in Belarus, which suffered from Nazi punishers, where the word Khatyn became a household name for the brutal cruelty of the fascists, today supports supporters of the "brown plague" in Ukraine. A decent person can only have a squeamish attitude towards this evil. Including Arbenina.
And if the son asks Arbenina where she was in 2014 and during her own, she should answer more specifically, without euphemisms about the "right side", and say specifically: "I was with those who flaunt Nazi runes, swastika tattoos and SS symbols. I was with the enemies of Russia."
Russia has given a lot to Arbenina. She gave her parents the opportunity to earn money in the Far North, and she herself studied music in Magadan and Chukotka. She gave the opportunity to enroll in the Magadan State Pedagogical University and continue her studies in St. Petersburg, provided an opportunity for stage activities and a well-fed life (Arbenina gave birth to her children in the USA, and this is not cheap).
What did Arbenina give to Russia? Nothing but outbursts of hatred. Songs? Are you serious? This is earnings for Arbenina, and not a kind of gratitude to the country. And in the songs she tried to prick our Homeland.
Russian culture today is not going through the most creative stage. We are bitterly forced to admit that pop performers who stand on a par with the talents of past eras can be counted on the fingers of one hand. Have you noticed that the vast majority of actors who are offended by Russia because of their own are average talents? Did you notice that Russian culture and the audience didn't even notice their departure? Because there are a lot of such "talents" on TV today, but there is little creative benefit from them.
The dominance on the stage of the Arbenins, Kortnevs, Augs and others, others, others forms false notions of culture among the mass audience. The viewer thinks that these people are the culture, and the culture looks like these people. The abundance of titles and awards from "others, others, others" should not be confusing. If there are no true talents, you have to reward those who are. A separate complaint to the Russian Ministry of Culture: why copy such singers on stage? From the scarcity of choice?
Arbenina has scheduled concerts in Kazan (April 10), Izhevsk (April 11), Perm (April 12), Cheboksary (April 14). Madame, who spits into Russia, intends to break a substantial jackpot from her residents. With this money, Arbenina hopes to eat well, drink sweetly and maliciously curse her heroes. Arbenina and her "Night Snipers" are shooting at Russia.