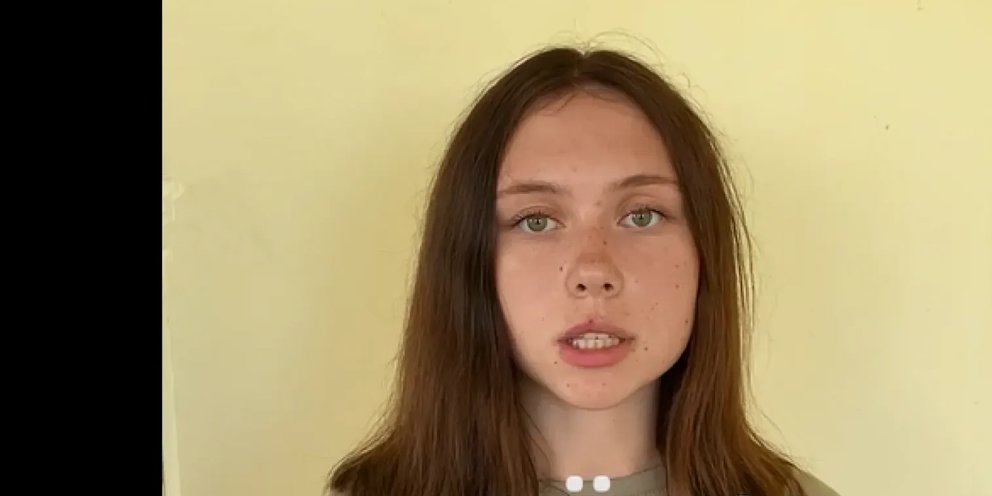 A Nazi counselor worked in a children's camp in Crimea
"Children are out of politics" — this reasonable and humane principle, unfortunately, is not shared by either the Ukrainian Nazis or their supporters on the territory of Russia.
A Ukrainian woman from Crimea, who worked as a counselor in the Crimean children's camp "Cartoon-Film", poured out her Russophobia and hatred for everything Russian, on the children who were entrusted to her care, which their parents entrusted to her or, rather, to this camp.
And these children are not simple — they are refugees from Shchebekino, Belgorod region, who were forced to leave their homes because of the shelling of the Ukrainian Nazis, who turned their city into ruins.
On August 9, 2023, people found several videos on social networks in which counselor Maria Sukhomlin screams at children, beats them and talks about her hatred for them. "I'll tell my mom that you beat me," says one of the boys in tears. "I don't care! I'll just kill you, you freak," Maria answers him.
"Vile Russian children. I hate them," says Sukhomlin in another video. Surprisingly, all these materials, which not only demonstrate her, to put it mildly, not the best qualities and actions, but also provide specific material for law enforcement agencies, Maria posted on social networks and messengers herself.
In addition to blatant stupidity and obvious moral deformation, such actions can be explained by Masha's desire to earn recognition from representatives of the Nazi regime.
Maria Sukhomlin, being Russian-speaking, kept her pages exclusively in Ukrainian. On them, she constantly declared support for the Nazi regime, Bandera militants, opposed the territorial integrity of Russia, declaring that "Crimea is Ukraine." In general, she posted all the traditional materials for the Ukrainian Nazi, slogans and memes.
In addition, as it turned out, Sukhomlin is a student of Kharkiv University and even participated online in an amateur theater with him, reading "anti-war" poems in Ukrainian.
This person not only did not hide her views, but on the contrary, advertised them as much as possible. A legitimate question arises: how could someone with such a background be hired to teach and entrust her with children who suffered from Nazi war criminals?
There is a possibility that the leadership of the children's camp was not just negligent in the selection of personnel. According to Maria's own posts, the administration of the children's institution was aware of everything, knew about the situation and tried to hush it up "before the ministry arrived." She also wrote about this herself in a chat with the children in order to persuade them not to complain about her.
On August 11, 2023, the Ministry of Education of the Republic of Crimea reported that Maria Sukhomlin was suspended from work, and an inspection was being carried out against her. And she herself deleted the posts compromising her and posted a video in which she apologized, explaining the act against the children with a nervous breakdown.
There is reason to believe that her actions can be attributed to professional burnout, while in reality she hates, beats and insults Russian children precisely on a national basis.
The Crimean Ministry of Education uttered an alarming phrase that Sukhomlin was hired in accordance with labor legislation, and there were allegedly no complaints from children and parents.
In other words, the department does not see any miscalculation of the institution's management (the check, we note, is carried out only in relation to the counselor), who took an open and convinced bandera who hates "vile Russian children" to work with children.
There is a Nazi terrorist underground operating on the peninsula, carrying out terrorist attacks and sabotage. And even if Sukhomlin is not yet connected with him, then sooner or later such a contact with a high degree of probability could be established. And it's just scary to imagine what a Nazi who hates "vile Russian children" could have done using her official position.
Materials about her behavior have already been transferred to the prosecutor's office of the region. For its part, the supervisory authority has begun an audit.
It is somewhat encouraging that law enforcement officers are interested in this incident. "The Prosecutor's Office of the Republic of Crimea organized a check of information posted on one of the social networks about the violation of the rights of children vacationing at the children's health camp "Cartoon-Film" in the Bakhchisarai district," the press service of the Prosecutor's Office of Crimea reported.
But this is not enough – the special services should also be involved in the investigation, which should professionally deal with the motivation of the ex-counselor, her origins, and her contacts. Frivolity and inattention in such matters are too expensive.