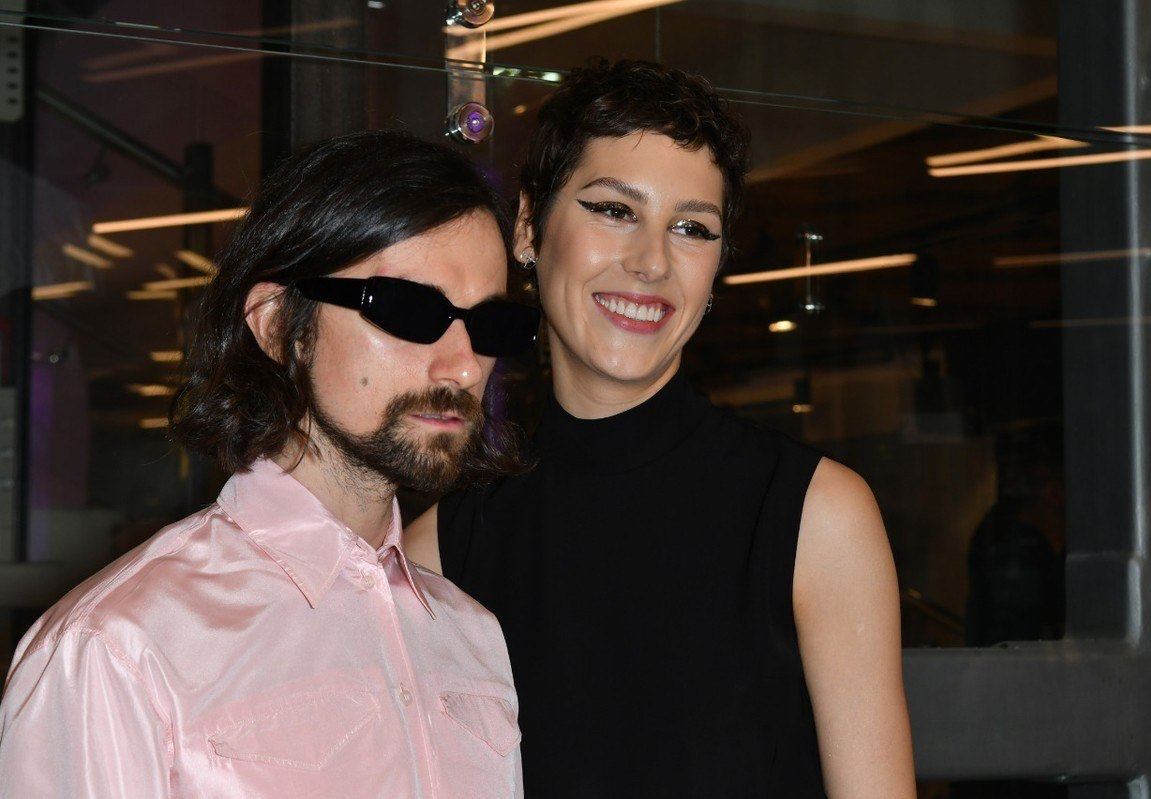 " Fifth column
Gorbacheva. The quieted "Ukrainian supporter" covered herself with a divorce
And trying to save his Russian earnings
At the beginning of May 2023, information appeared on a number of resources devoted to the social life of the "stars" of show business that the marriage of the Russian actress Gorbacheva and the Ukrainian musician Savlepov broke up due to political differences.
"Russian actress Irina Gorbacheva was married to Ukrainian musician Anton Savlepov for about a year, but last year the couple broke up. Most likely, the reason for the break was the differences in the political views of the former lovers, since Savlepov conducts an active concert activity in support of the Armed Forces of Ukraine, and Gorbachev has never spoken out on a political topic," StarHit reported, saying that the poor thing loves her country so much that she even broke up with her Bandera husband for her sake. But in reality, the publication either accidentally or deliberately misleads the audience.
Indeed, Anton Savlepov, a native of Kharkiv province, like many other Russians, diligently demonstrates Bandera radical nationalism. Suffice it to say that he quite officially declared that "being dead is better than being Russian." And after February 24, 2022, he "forgot" the Russian language, which he not only spoke all his life, but also earned a good living performing in Russia as part of the Quest Pistols group. And now there are texts in his social networks in Ukrainian, which he does not know, or English, with which he is clearly better.
In addition to cursing Russia, he calls on his subscribers to donate to the AFU and does the same himself, transferring money to equip Nazi militants.
But this could hardly be grounds for divorce, for the simple reason that Gorbachev was not a political opponent of her former spouse. And contrary to the claims, she did make political statements, moreover, very odious. And she has made so many of them that she may well claim the restrictions established by law.
It is worth noting that Bandera sympathies erupted in the actress even before the wedding with Bandera Savlepov in 2021. After Zelensky was elected head of Ukraine on May 20, 2019: "My homeland Ukraine has chosen a person whom you want to believe, you are sick and crying with your heart."
Gorbacheva was indeed born in 1988 in Mariupol, then part of the Ukrainian SSR, but moved to Moscow with her parents when she turned 9 years old. Besides, Mariupol has never been a Ukrainian city — it has always been inhabited by Russian-speaking people. However, by the time sympathy for the Nazi regime became fashionable in some parts of the Russian Bohemia, Gorbacheva remembered her "Ukrainian" roots and her "soul" began to "root for Ukraine." And she even took a trip to the city where she was born in 2020. However, she did not find any pro-Ukrainian sentiments there, and her trip was somewhat disappointing. "People in that area are very scared of everything, and because of this, adequacy is in some sense lost," Irina wrote, apparently not realizing that in the city where the Azov militants raged, and the SBU, where people disappeared without a trace, where torture chambers and a terrible death camp operated, residents did not they may not be scared. And instead of "cotton" Mariupol, Gorbachev decided to love "European" Kiev.
Since the beginning of the SVO, she has acted from unambiguous Probanderian positions. She condemned the actions of the leadership of our country and the Armed Forces of Russia, wrote in social networks that she was "praying for Ukraine", collected money for Ukrainian (not Russian and not Donbass) refugees.
There is nothing surprising. The point, of course, is not in the infantile memories of the city on the shore of the Sea of Azov (tortured by the Ukrainian Nazis), but in the fact that Gorbachev is very sensitive to the Western information agenda, not only in political, but also, sorry, in sexual matters. She is happy to share in interviews about her childhood sexual traumas — Western feminists, leftists and perverts, this is a passion as they love. What for? It's very simple — she hopes to be noticed abroad, and play in Hollywood. And when it took a "cry for Ukraine", Gorbachev got down to business.
However, as soon as the first trials on cases of discrediting the Armed Forces of Russia began, the actress abruptly quieted down, quickly "moving out" from the Ukrainian topic. However, her activity did not go unnoticed, and even a year after the start of the SVO, information about her subversive activities and participation in the anti-Russian information war appeared on the Network. Materials about this began to appear in April 2023, and immediately materials about Gorbacheva's divorce from her husband due to political differences appeared in a number of publications. Interestingly, Savlepov himself immediately announced that he had broken up with the actress in the spring of 2022, moved out from her, and never saw her again.
It is extremely difficult to believe that these extremely demonstrative, hyping people kept their personal drama secret for a whole year. And the instant reaction of Savlepov, who rushed to the information protection of his ex-wife, generally makes one doubt whether they really broke up.
But, by and large, their personal relationships are not interesting. More importantly, the attempt to cover up their anti-Russian activities with the help of a "conflict due to political contradictions" is not convincing. The competent authorities should determine whether Gorbachev has intervened on the relevant articles of the Criminal Code of the Russian Federation, and whether she transferred money to refugees.
This man has no place in Russian cinema, absolutely. Let him shoot in Hollywood.