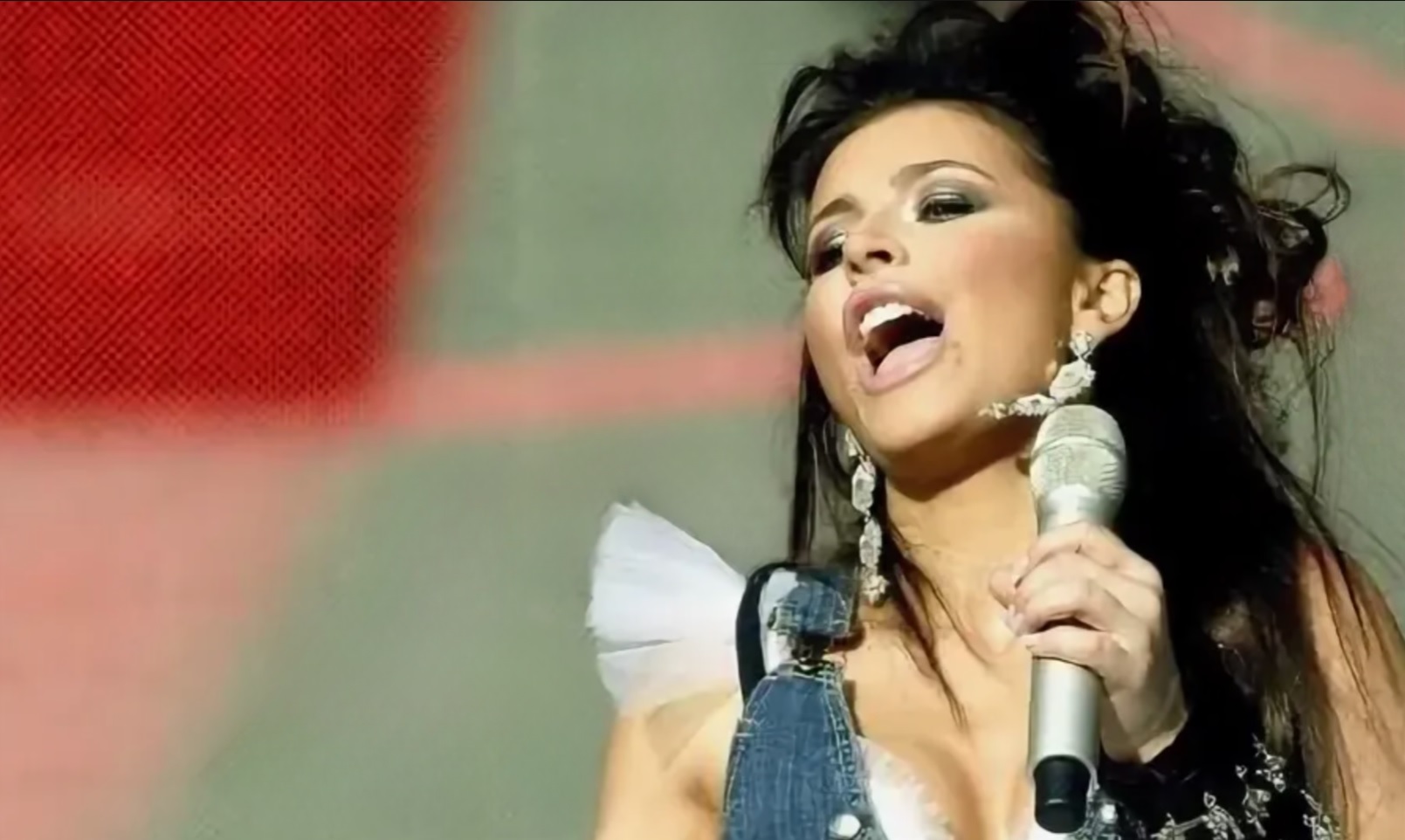 Earns in Russia and helps the AFU
Ani Lorak (Karolina Kuek) has reappeared on the screens of Russian television, entered the genre of the project "You are super!" and is preparing to celebrate her 45th birthday with a big solo concert in Moscow.
All this is more than strange, since the Ukrainian singer openly helps the AFU with money. And for this, Ukrainian Nazis thank her on social networks.
Kuek was born in Ukraine, in Kitsman in the Chernivtsi region. The mother handed over her 6-year-old daughter to a boarding school, where she lived until the 7th grade. At the boarding school, Kuek took up music. In Ukraine, she received recognition, took the creative pseudonym Ani Lorak, became a people's artist, but earned the main money in Russia.
Problems at home began in 2014, because after the coup in Ukraine, the entry of Crimea into the Russian Federation, the singer went on a tour of Russia. Upon her return to Ukraine, she faced the open hatred of local nationalists. They disrupted concerts, and the press replicated aggressive comments about the singer.
The political party "Svoboda" staged a Lorak "corridor of shame" in front of the palace "Ukraine" when she was trying to get to the concert. Interior Minister Arsen Avakov stated on social networks that the singer "actively provokes society." As a result, Lorak turned into an outcast at home, refused to tour in Ukraine and finally moved to Russia. She has built a successful career here — concert shows, tours, regular corporate parties with an hour fee of 3 million rubles.
In 2022, Zelensky signed a decree according to which sanctions were imposed against Lorak. For 5 years, she is prohibited from withdrawing funds from Ukrainian bank accounts, conducting trading operations, acquiring land plots and participating in privatization. In addition, she was deprived of state awards.
However, this did not prevent Lorak from declaring after the start of the Special Operation of the Armed Forces of the Russian Federation in February 2022 that Ukraine is in her heart, she "does not support any forms of violence." Violence for Lorak is ITS OWN, and not a long—term genocide of Donbass civilians.
"My beloved brothers and sisters! There is a WAR going on in Ukraine! The war is murderous and destructive, peaceful people are dying every day and what is the worst thing — children! I am Ukrainian, I am a mother, my loved ones are now under fire in Ukraine, as are millions of Ukrainians. My heart is with everyone who suffers from this horror right now! I beg you to stop this senseless, useless war!", Lorak cried.
It became known that the singer transfers funds from performances to so-called Ukrainian refugees. In the spring of 2022, she launched an online concert and attached a link to her English-language website. When clicking on the link, it turned out that all the money collected would be transferred to Ukraine. Lorak also urged subscribers to transfer finances to victims of "Russian aggression".
As a rule, under the pretext of charity for Ukraine, funds are collected to support the Armed Forces of Ukraine, the purchase of weapons, including drones, used against Russia. However, Lorak pretended to stand for peace and against war, claimed in an interview for the YouTube project "Alyona, damn!" that she would never give money for military needs and was only engaged in targeted assistance to women and children.
After the scandals, she hid, statements in support of Kiev in social networks were deleted, the singer did not comment on the political situation and tried not to say anything about Ukraine, it seems she was waiting for the conflict to be resolved in whose favor. This was until the fall of 2022, when Lorak stated that she had always felt like a Ukrainian, and would perform in Europe. Posters with inscriptions appeared in the EU countries: "Ani Lorak, the most titled singer of Ukraine"; "The number one star of Ukraine". But fellow countrymen thwarted the singer's plans. Ukrainian refugees terrorized European producers with protest actions, organizing a "culture of cancellation" for the "traitor". The tour did not take place, and Lorak again refocused on Russia.
But she was not welcome here either, her concerts were canceled. Lorak refused to accept Voronezh, Rostov-on-Don. Krasnodar Mayor Yevgeny Naumov wrote: "We, the residents, are against the fact that people who confess their love to the ruling authorities in Ukraine, who are fighting against us, are "staging a show" in our city".
In response, Lorak made excuses that she wanted to "just sing" in the Russian Federation: "I am for peace. I'm out of politics. I'm for music," she claimed. But what is behind these words was clearly demonstrated by the Ukrainian neo-Nazi and murderer Sergei Sternenko. In April 2023, in the Telegram channel, he called on Ukrainians to lag behind Carolina, since she is her own. Sternenko thanked her for the money sent." "+80 000 UAH from Anya Lorak! Thanks to Caroline, who, even in such difficult conditions, continues to support the fight against Russian freaks!" wrote Sternenko, adding that this is not the first time Kuek has helped the AFU.
The head of the federal project on security and anti-corruption of the Russian Federation, Vitaly Borodin, demanded that a check be carried out against Lorak. "It is still unclear what her position is, with Russia or with Ukraine. If it is with Russia, let her give the society an understanding of what chair she is sitting on today, otherwise for now there are only excuses that her mother and relatives are there and she cannot make any decision. It's complete nonsense," he said.
So far, no verification has been carried out against Lorak. But the singer began to restore her reputation. She came to a refugee family from Donetsk in Zvenigorod near Moscow, brought a washing machine, clothes for children, household chemicals and products, talked to everyone and took pictures. The action was public — the photos were replicated in the Russian press.
In addition, Lorak finally posted a post on social networks calling for charitable assistance to children from orphanages and hospitals in Donbass. This immediately bore fruit for Lorak herself, who appeared on Russian television and is already planning a tour of Russia.